Quilted pom pom pot holder
Here is what several of my friends and neighbors will be getting for Christmas this year. I was inspired by this so cute
Sewing basket
pot holder at Anthropologie. Retail $12.00. I'm almost done sewing Christmas gifts! I've decided some people will be getting handmade gifts from etsy this year. I don't know if you've noticed but I haven't posted much on Christmas happenings. The reason is we are closing on our new house on December 20th! Ahhh! My husband keeps peeking in the sewing room with this questioning look on his face that looks to be saying something like "is she ever going to pack"! Maybe next week;)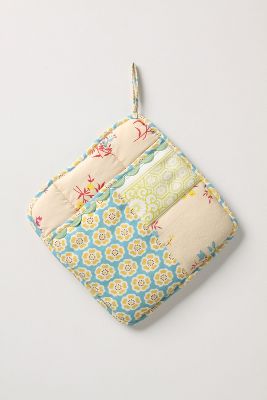 I probably should have just bought these but giving a handmade pot holder seems like a much bigger gift than a store bought one for some reason. The fabric is Amy Butler's new
Soul Blossoms
collection. The entire collection is so beautiful but a little vibrant! I was able to get away with just buying fat quarters to make these. You can make 3 to 4 pot holders out of 4 fat quarters if you find the right coordinating fabrics.
I added pom poms because I love pom poms!
The question now is do you want a tutorial?